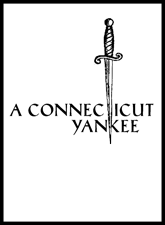 A Connecticut Yankee
On the eve of his wedding, our hero receives an unexpected visit from his former fiancée. When his current wife-to-be finds them together, she knocks the fellow out cold with – what else? – a champagne bottle. He awakes to find himself transported back to the days of Camelot where he charms King Arthur's court and is soon put in charge of industrializing the country. He falls in love only the have his armour kidnapped by the King's hilariously evil sister. He awakes from his prophetic dream realizing that he almost married the wrong girl. This delectable musical comedy with its willfully silly dedication to pure hi-jinks, was meticulously restored in 2001 for its presentation by the acclaimed Encores! series in New York City and is now available with Don Walker's thrilling orchestrations.
Vraag een licentie voor opvoering aan
Kies eerst de juiste instrumentale bezetting, alvorens de offerte aan te vragen.

Instrumentatie: full package (A Connecticut Yankee)

25 Libretto-Vocal Book
1 Piano-Conductor
1 Reed 1
1 Reed 2
1 Reed 3
1 Reed 4
1 Reed 5
1 Horn
2 Trumpet 1&2
1 Trumpet 3
1 Trombone
1 Drums
1 Piano
1 Violin A
1 Violin B
1 Violin C
1 Violin D
1 Viola
1 Cello
1 Bass
1 Logo Pack
Instrumentatie: piano only (A Connecticut Yankee)

25 Libretto-Vocal Book
1 Piano-Conductor
1 Logo Pack
PRINCIPALS
3 Women
4 Men

FEATURED
1 Woman
1 Man

ENSEMBLE
Singing-Dancing ensemble as desired

CHARACTERS
Lt. Kenneth Kay, U.S.N. / Sir Kay
Judge Thurston Merrill / Merlin
Admiral Arthur K. Arthur, U.S.N. / King Arthur
Ensign Gerald Lake, U.S.N. / Sir Galahad
Lt. Martin Barrett, U.S.N.
Capt. Lawrence Lake, U.S.N. / Sir Lancelot
Lt. Fay Merrill, W.A.V.E. / Queen Morgan Le Fay
Corp. Alice Courtleigh, W.A.C. / Alisande La Courtelloise (Sandy)
Evelyn
Queen Guinivere
Lady Angela
Naval Officers / Knights and Slaves
Dancing Girls / Ladies-in-Waiting