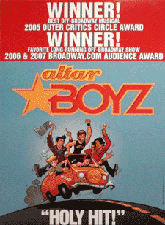 ALTAR BOYZ
ALTAR BOYZ is a foot-stomping, rafter-raising, musical comedy about a fictitious Christian boy-band on the last night of their national 'Raise the Praise' tour. The Boyz are five all-singing, all-dancing heartthrobs from Ohio: Matthew, Mark, Luke, Juan and Abraham.
With their tight harmonies and spectacular choreography, the ALTAR BOYZ will delight your audiences. As they perform their signature hits such as 'Rhythm In Me,' 'The Calling,' and 'I Believe,' the Boyz question their loyalty to each other and ask whether or not faith is really holding them together. They finally deliver a message of unity, that 'there is no star as bright as its constellation, no harmony in a single voice.'
Vraag een licentie voor opvoering aan
Kies eerst de juiste instrumentale bezetting, alvorens de offerte aan te vragen.

Instrumentatie: Altar Boyz - Orchestration Package

1 – Piano Conductor/Keyboard I
1 – Keyboard II
1 – Drums
1 – Guitar
PRINCIPALS
5 Men, aged 17-30

COMMENTS
All five men are called upon equally to sing and dance-each character has a distinct personality, and a chance to shine.

CHARACTERS
Matthew - The Leader
Mark - The Sensitive One
Luke - The Bad Boy
Juan - The Latin Lover
Abraham - The Gefilte Fish Out Of Water
Announcer/Voice of G.O.D. - Voiceover