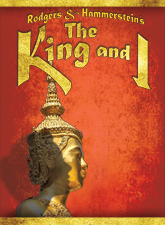 The King and I
East versus West makes for a dramatic, richly textured and ultimately uplifting tale of enormous fascination. It is 1862 in Siam when an English widow, Anna Leonowens, and her young son arrive at the Royal Palace in Bangkok, having been summoned by the King to serve as tutor to his many children and wives. The King is largely considered to be a barbarian by those in the West, and he seeks Anna's assistance in changing his image, if not his ways. With both keeping a firm grip on their respective traditions and values, Anna and the King grow to understand and, eventually, respect one another, in a truly unique love story. Along with the dazzling score, the incomparable Jerome Robbins ballet, 'The Small House of Uncle Thomas,' is one of the all-time marvels of the musical stage.
Vraag een licentie voor opvoering aan
Kies eerst de juiste instrumentale bezetting, alvorens de offerte aan te vragen.

Instrumentatie: two-piano arrangement (The King and I)

20 Vocal Book
1 Piano-Conductor
2 Two-Piano Arrangement (Act 1)
2 Two-Piano Arrangement (Act 2)
1 Logo Pack
Instrumentatie: full package (The King and I)

Full Orchestration:
20 Vocal Book
1 Piano-Conductor
1 Flute 1
1 Flute 2
1 Oboe
1 Clarinet 1
1 Clarinet 2
1 Clarinet 3
1 Bassoon
1 Trumpet 1
1 Trumpet 2
1 Trumpet 3
1 Horn 1
1 Horn 2
1 Horn 3
1 Trombone 1
1 Trombone 2
1 Tuba
2 Percussion
1 Harp
2 Violin A
2 Violin B
2 Violin C
1 Viola
1 Cello
1 Bass
1 Logo Pack
Additional Material:
A full score is available for an additional fee. Please contact your licensing representative for additional information.
Instrumentatie: piano only (The King and II)

20 Vocal Book
1 Piano-Conductor
1 Logo Pack
PRINCIPALS
3 Women
2 Men
2 Boys

FEATURED
2 Men

ENSEMBLE
Large singing-dancing ensemble consisting of Royal Dancers, Wives, Children, Priests and Amazons

CHARACTERS
Captain Orton
Louis Leonowens
Anna Leonowens
The Interpreter
The Kralahome
The King
Phra Alack
Lun Tha
Tuptim
Lady Thiang
Prince Chulalongkorn
Sir Edward Ramsay
Princess Ying Yaowalak
Nine Princes and Eight Princesses
Eighteen Royal Dancers
Ten Priests of Siam
Ten Royal Wives
Four Amazons