Russel Crouse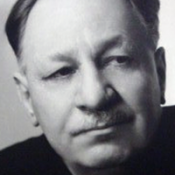 The Lindsay & Crouse partnership stands today as the longest collaboration of any writers in theatrical history, lasting for more than 28 years. Their hits include THE SOUND OF MUSIC (with a score by Rodgers & Hammerstein); ANYTHING GOES and RED, HOT AND BLUE (with scores by Cole Porter); CALL ME MADAM (score by Irving Berlin); the long-running play LIFE WITH FATHER (which originally starred co-author Lindsay); the Pulitzer Prize winning THE STATE OF THE UNION; and HAPPY HUNTING. Their producing credits included THE HASTY HEART, DETECTIVE STORY and ARSENIC AND OLD LACE.
Howard Lindsay was born in Waterford, New York in 1889 and died in 1968. He became an actor at nineteen and in 1913 began a five-year stay with the Margaret Anglin Co. After Infantry Service in World War I, his first big break was to act and direct in the George S. Kaufman hit DULCY in 1921. Lindsay wrote many plays before teaming up with Russel Crouse on ANYTHING GOES in 1934. (R&H trivia buffs will note that among his acting credits is the role of The King in the original television production of Rodgers & Hammerstein's CINDERELLA in 1957.)
Russel Crouse was born in Findlay, Ohio, in 1893 and died in 1966. At seventeen he became a reporter for the Cincinnati Commercial Tribune. After serving in the Navy in World War I, he worked on New York newspapers, gaining his first renown through a signed column in the Post. In 1932 he became head of the publicity department for the Theatre Guild and in 1933 wrote his first Broadway show, collaborating with Corey Ford on the musical comedy HOLD YOUR HORSES. From 1934 on, he wrote only with Lindsay.
Alle musicals van Russel Crouse