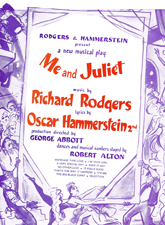 Me and Juliet
Rodgers & Hammerstein's valentine to the theatre takes place both onstage and backstage during the production of a musical entitled-what else?-'Me and Juliet.' This show-within-a-show follows the romance between a chorus girl and an assistant stage manager leading to their secret marriage. Their happy union is threatened by the electrician who still carries a torch for the girl and, in a drunken rage, tries to kill them both. A contrasting romance involves the stage manager, whose credo never to fall for a girl in a show he's working on is complicated when a dancer he's been wooing is suddenly thrown into the cast of 'Me and Juliet.' Informed by rich insights into the world of Broadway-how jobs are gotten and lost, the inside tricks of the trade and the pitfalls of backstage romances-ME AND JULIET is an innovative, irresistible show that consistently delivers both musically and dramatically.
Vraag een licentie voor opvoering aan
Kies eerst de juiste instrumentale bezetting, alvorens de offerte aan te vragen.

Instrumentatie: full package (Me and Juliet)

20 Vocal Book
2 Piano-Conductor
1 Piano-Vocal
1 Reed 1
1 Reed 2
1 Reed 3
1 Reed 4
1 Reed 5
1 Horn
2 Trumpet 1&2
2 Trumpet 3&4
1 Trombone 1
1 Trombone 2
1 Trombone 3
1 Harp
1 Percussion
2 Violin A
2 Violin B
2 Violin C
2 Viola
2 Cello
1 Bass
1 Logo Pack
Instrumentatie: piano only (Me and Juliet)

PRINCIPALS
2 Women
3 Men

FEATURED
7 Women
11 Men

ENSEMBLE
Large singing-dancing ensemble consisting of Theatre Patrons, Company, Stage Crew, Audience.

CHARACTERS
George - 2nd Assistant Stage Manager
Sidney - Electrician
Jeanie - Chorus Singer
Herbie - Candy Counter Boy
Chris - Rehearsal Piano Player
Milton - Drummer
Stu - Bass Fiddle Player
Michael - A Chorus
Bob - Electrician
Larry - Assistant Stage Manager
Mac - Stage Manager
Monica - Chorus Dancer
Ruby - Company Manager
Charlie (Me) - Featured Lead
Dario - Conductor
Lily (Juliet) - Singing Principal
Jim (Don Juan) - Principal Dancer
Susie (Carmen) - Principal Dancer
Voice of Mr. Harrison - Producer
Voice of Miss Davenport - Choreographer
Hilda - An aspirant for a dancing part
Marcia - Another aspirant for a dancing part
Betty - Successor to Susie as Principal Dancer
Buzz - Principal Dancer
Ralph - Alley Dancer
Miss Oxford - A Bit Player
Sadie - An Usher
Mildred - Another Usher
Theatre Patrons
Company
Stage Crew
Audience