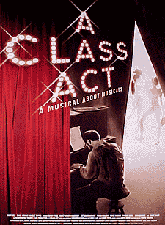 A Class Act
AThe Tony Award winning lyricist of A CHORUS LINE was hell-bent on writing both the words and music for a Broadway show, a goal unrealized in 1987 when he died of cancer at the age of 48. Only posthumously would Ed's songs garner the acclaim they always deserved, in the biographical musical A CLASS ACT.
Ed got his start in the BMI Musical Theater Workshop where he largely amasses the charismatic songbook that has been arranged in A CLASS ACT to dramatize Ed's often hilarious, ultimately heartbreaking journey. An ensemble of 7 inhabit the colorful gallery of friends and loved ones in Ed's life including the legendarily acerbic Lehman Engle, the relentlessly peppy Marvin Hamlisch, and Über-creative Michael Bennett. Fourteen years after his death, one of the theater's unsung champions finally got the recognition he always deserved in this vibrant musical about musicals.
Vraag een licentie voor opvoering aan
Kies eerst de juiste instrumentale bezetting, alvorens de offerte aan te vragen.

Instrumentatie: Class Act Orchestration Package (9 Books)

1 – Keyboard I/Piano Conductor
1 – KEYBOARD II (Synthesizer)
1 – PERCUSSION (see list below)
1 – REED I (Flute, Alto Flute, Clarinet, Alto Sax)
1 – REED II (Oboe, English Horn, Clarinet, Tenor Sax)
1 – TRUMPET I (Flugelhorn)
1 – TRUMPET II (Flugelhorn)
1 – TROMBONE
1 – BASS (Electric and Acoustic)
PRINCIPALS
4 Women
4 Men

COMMENTS
Doubling is used for all characters except the roles of Ed Kleban, Lehman Engel and Sophie.

CHARACTERS
Ed Kleban - an aspiring songwriter
Lehman Engel - leader of the BMI Musical Theatre Workshop
Bobby - a drummer and would-be songwriter
Michael Bennett - charismatic choreographer and director
Charley - an aspiring songwriter
Marvin Hamlisch - the composer at age 29
Dr. Nodine - a phychiatrist at a mental hospital. (non-speaking role)
Jean-Claude Chevray - Sophie's boyfriend, suave and confident
Sophie - Ed's first love
Felicia Lipshitz - an aspiring songwriter
Second Girl in 'Light on my Feet'
Tap Dance Students (2)
Dancer Two in 'A Chorus Line'
Lucy - an aspiring singer/songwriter
Dancer One in 'A Chorus Line'
Mona - an aspiring songwriter, seductive and kittenish
First Girl in 'Light on my Feet'
Dancer Three in 'A Chorus Line'