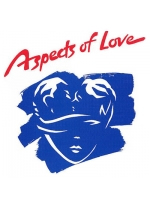 Aspects of love
Aspects of Love is a musical in two acts, with music by Andrew Lloyd Webber and lyrics by Don Black and Charles Hart, based on the novel by David Garnett.
The show tells the story of passion, love, life and loss across three generations of a family and their artistic companions, against a background of 1940′s France and Italy. "Love Changes Everything" was a huge hit for Michael Ball, who starred in the original production in London and on Broadway. It was first produced at the Prince of Wales Theatre in London on 17th April 1989, where it ran for 1,325 performances before finally closing on 20th June 1992.
Vraag een licentie voor opvoering aan
Kies eerst de juiste instrumentale bezetting, alvorens de offerte aan te vragen.

Instrumentatie: 2 PIANO VERSION

Percussion:
Timpani
Tuned Percussion
Orchestral Percussion
Drum Kit
Instrumentatie: 12 PIECE VERSION

Woodwind I (Clarinet, Flute, Alto Flute, Piccolo)
Woodwind II (Oboe, Cor Anglais)
Woodwind III (Bb Clarinet, Bb Bass Clarinet, Flute)
Keyboard I
Keyboard II
Keyboard III
Violin I – can be as few as one, or as many as you like
Violin II – can be as few as one, or as many as you like
Viola
Cello
Double Bass
Percussion:
Timpani
Roto-toms,
Gong (Small, Large)
Tam-tam (Small, Large)
Orchestra Bells (Glockenspiel)
Xylophone
Bass Drum
Suspended Cymbals (Small, Medium, Large)
Snare Drum
Tambourine
Castanets
Maracas
Whip
Triangle (Small, Large)
Bell Tree
Principals
2 Women
1 Teenage Girl
2 Men

Featured
3 Women
2 Men

Ensemble
Singing-Dancing Ensemble with numerous small roles

Characters
Alex Dillingham – a young Englishman
Rose Vibert – a struggling actress
Marcel Richard – an actor-manager
Crooner (off-stage)
George Dillingham – Alex's uncle
Giulietta Trapani – an Italian sculptress
Jerome – George's gardener
First Fairground Barker
Second Fairground Barker
Elizabeth – George's housekeeper
A Hotelier
A Hotel Cashier
A Doctor
A Pharmacist
A Gondolier
A Registrar
An Assistant Registrar
Hugo – Rose's lover
Jenny Dillingham – daughter of George and Rose
Ensemble (suggested minimum 8 men 6 women)