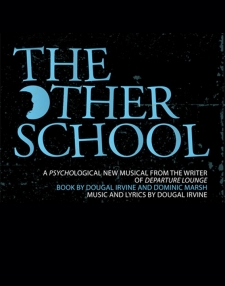 The Other School
THE OTHER SCHOOL – A PSYCHO-LOGICAL NEW MUSICAL FROM THE WRITER OF DEPARTURE LOUNGE
Polly and Kester Parish are bored of first days. It's their fifth new school in five years thanks to Mum's job. This school is a bit different though. Every student seems to have suffered a random freaky accident. Some of them enjoy snapping their limbs and slamming their fingers in doors. That Headmistress is definitely not all there, not to mention the creepy Caretaker. Welcome to The Other School – once you're in the system it'll never let you leave!
Originally commissioned by National Youth Music Theatre, The Other School enjoyed a sell out run at the St James Theatre in 2013.
Vraag een licentie voor opvoering aan
Kies eerst de juiste instrumentale bezetting, alvorens de offerte aan te vragen.

Instrumentatie: full package (The Other School)

30 Libretto-Vocal
1 Piano-Vocal
1 Reed
1 Acoustic Guitar
1 Electric Guitar
1 Bass Guitar
1 Keyboard 1
1 Keyboard 2
1 Drums
1 Cello
Instrumentatie: piano only (The Other School)

30 Libretto-Vocal
1 Piano-Vocal
REAL WORLD

Polly Parish
Kester Parish
Ms Parish (adult)
Bereavement Counsellor (adult)
Barny
Carol – Barny's Mum (adult)
Barny's Gran (adult)
Doctor (adult)
Sarah Sidcup
Ellen
Janine
School Students, Mourners

OTHER SCHOOL

Mr Morton (adult)
Caretaker (adult)
Headmistress (adult)
Axel
Daniel
School Secretary (adult)
Nigel
Wilkes
Leonard
Kate the dinner lady (adult)
Samantha
Georgie
Zoe
Tom
Arthur
Tyrone
Jasmine
Eleanor
Becky
Donald
School Students