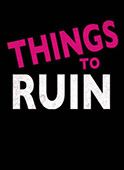 Things To Ruin
THINGS TO RUIN is an incendiary collection of song by Kleban and Larson Award Winner Joe Iconis.  Originally directed by co-conceiver John Simpkins, THINGS TO RUIN is a theatrical rock concert about human beings who are messy, emotional, drugged up, knocked down, inspired, electric and who don't have nearly enough time to cause the kind of commotion they so desperately need to.  Variety called it "So much fun that it's a little overwhelming – 'transporting' is probably the best word!"
Please Note: THINGS TO RUIN contains profanity, adult themes and references to sex, drugs and rock n' roll. It therefore may be inappropriate for younger performers and audiences.
Vraag een licentie voor opvoering aan
Kies eerst de juiste instrumentale bezetting, alvorens de offerte aan te vragen.

Instrumentatie: full package (Things to Ruin)

11 Libretto-Vocal
1 Piano-Conductor
1 Guitar
1 Drums
1 Bass
Instrumentatie: piano only (Things to Ruin)

11 Libretto-Vocal
1 Piano-Conductor
PRINCIPALS
5 Men
4 Women

CHARACTERS
Dudes 1-4
Ladies 1-4
Band Leader*

* In the original off-Broadway production, author Joe Iconis played piano on stage and performed songs listed for Band Leader.  The songs for the Band Leader may be performed by someone else to suit the needs of your production.