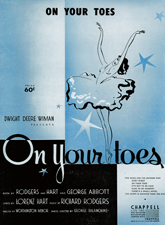 On Your Toes
Gangsters, vaudeville and the Russian Ballet come together in this riotous, romantic romp. Junior's folks pull him from the family's vaudeville act and pack him off to school where he becomes a music teacher. He meets Sydney, a composer, and Frankie, a coed who's fallen hard for him, and together they set about trying to sell Sydney's new jazz ballet to a Russian ballet company. The prima ballerina wants to teach Junior more than a few new steps, but with her assistance, 'Slaughter On Tenth Avenue' is produced with Junior dancing the lead. In one of the funniest set pieces ever devised, Junior dances the premiere while being shot at from the audience by thugs who've mistaken him for a dancer who owes on a gambling debt. This landmark musical was directed by the legendary George Abbott and choreographed by newcomer George Balanchine, whose use of ballet here marked the first time in musical comedy that dance was a direct proponent of the plot.
Vraag een licentie voor opvoering aan
Kies eerst de juiste instrumentale bezetting, alvorens de offerte aan te vragen.

Instrumentatie: full package (On Your Toes)

20 Libretto-Vocal Book
1 Piano-Vocal
1 Reed 1
1 Reed 2
1 Reed 3
1 Reed 4
1 Reed 5
1 Horn
1 Trumpet 1&2
1 Trumpet 3
1 Trombone
2 Piano 1&2
1 Drums
1 Percussion
1 Violin A
1 Violin B
1 Violin C
1 Viola
1 Cello
1 Bass
1 Logo Pack
Instrumentatie: piano only (On Your Toes)

20 Libretto-Vocal Book
1 Piano-Vocal
1 Logo Pack
PRINCIPALS
3 Women
3 Men

FEATURED
2 Men

ENSEMBLE
Large singing-dancing ensemble with several small roles

CHARACTERS
Phil Dolan II (Pa)
Lil Dolan (Ma)
Phil Dolan III (Junior)
Stage Manager
Lola
Junior, 15 years later
Sidney Cohn
Frankie Frayne
Joe McCall
Vera Baronova
Anushka
Peggy Porterfield
Sergei Alaxandrovitch
Konstantine Morrosine
Oscar
Stage Doorman
A Woman Reporter
Dmitri Ivan
Louie
Princess Zenobia - In the 'Princess Zenobia' Ballet
Beggar - In the 'Princess Zenobia' Ballet
Kringa Khan - In the 'Princess Zenobia' Ballet
Ali Shhar - In the 'Princess Zenobia' Ballet
Ahmud Ben B'Du - In the 'Princess Zenobia' Ballet
Hank j. Smith
Ballet Leaders -In the 'On Your Toes' Ballet
Tap Leaders - In the 'On Your Toes' Ballet
Cop (2)
Messenger Boy
Hoofer - In the 'Slaughter on Tenth Avenue' Ballet
Striptease Girl - In the 'Slaughter on Tenth Avenue' Ballet
Big Boss - In the 'Slaughter on Tenth Avenue' Ballet