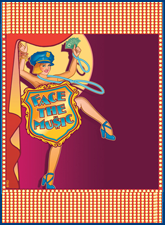 Face The Music
Originally presented on Broadway by the legendary Sam Harris, Face the Music opened at the New Amsterdam Theater on February 17, 1932, and ran for 165 performances, before touring and then returning to Broadway's Forty-Fourth Street Theater. Sharply satirical, its humor both timely and timeless, Face the Music combined a piquant Moss Hart script with a superlative Irving Berlin score that featured such soon-to-be standards as "Let's Have Another Cup Of Coffee," "Soft Lights And Sweet Music," the ground-breaking "Manhattan Madness," and the utterly unique "I Say Its Spinach (And The Hell With It)."
After lying dormant for nearly seven decades, Face the Music was lovingly and painstakingly restored by a team of musical archivists led by R&H Director of Music Bruce Pomahac. With an adaptation by David Ives, direction by John Rando and choreography by Randy Skinner, Face the Music proved to be the discovery of the 14th season of City Center's Encores!: Great American Musicals in Concert.
Vraag een licentie voor opvoering aan
Kies eerst de juiste instrumentale bezetting, alvorens de offerte aan te vragen.

Instrumentatie: full package (Face the Music)

1 Piano-Vocal
22 Libretto-Vocal
1 Reed 1
1 Reed 2
1 Reed 3
1 Reed 4
1 Reed 5
1 Trumpet 1
1 Trumpet 2
1 Trumpet 3
1 Trombone
1 Guitar-Banjo
1 Piano
1 Drums
1 Percussion
1 Violin 1
1 Violin 2
1 Violin 3
1 Violin 4
1 Viola
1 Cello
1 Bass
Instrumentatie: piano only (Face the Music)

1 Piano-Vocal
22 Libretto-Vocal
PRINCIPALS
3 Women
4 Men

FEATURED
1 Woman
2 Men

ENSEMBLE
A singing, dancing ensemble with many small roles.

CHARACTERS
Hal Reisman - a Broadway producer
Kit Baker ? a musical comedy actress
Pat Mason ? a musical comedy actor
Mrs. Myrtle Meshbesher ? a rich socialite
Martin Van Buren Meshbesher ? the Police Chief
O'Rourke ? a policeman
Joe Malarkey ? part of a ?genu-wine, A-number-one comical dancing team?
Pickles Crouse ? the other part of a ?genu-wine, A-number-one comical dancing team?
Streetwalker ? a woman who wants to sing a torch song
Rodney St. Clair ? a sensational baritone

ENSEMBLE (in order of appearance):
Gentleman
Doorman
First Society Lady
Second Society Lady
Cartier Manager
Bergdorf Manager
Elizabeth Arden Manager
Page Boys
Depressed Man
Uncle Sam
Policemen
First Actor
Second Actor
The Pratt Sisters
Booking Agent (Lou Shurr)
Costumer
Stenographer
Mailman
Louis
Rivington
Reporter
Stage Manager
Chorus Girl
First Bum
Second Bum
Federal Investigator (Agent Jones)
Hotel Detective
Two Newboys
Clerk
Judge
Prosecutor
Defense Attorney