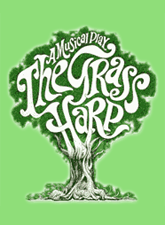 The Grass Harp
This 1971 musical has long been considered among enthusiasts as one of the lost treasures of the musical theater. Kept alive largely thanks to the extraordinary cast recording featuring an incandescent Barbara Cook, THE GRASS HARP is an intimate tale of fascinating characters carried on the wings of a ravishing score. The title refers to the wind rustling though fields of tall grass – 'a harp of voices telling stories.' This story tells of Dollyheart, a sweet-natured spinster with a secret receipe for an elixir cure, and her demanding sister, Verena, who is determined to exploit the recipe for her own purposes. When tensions rise, Dollyheart leaves her sister's house with their orphaned teenage nephew and black housekeeper in tow to take up residence in a tree house. It isn't long before other outcasts join their extended family including the revivalist Babylove and the children who comprise her Miracle Show, and the dearly eccentric Judge Cool. The deep emotional currents of these shifting relationships lead to an uplifting, compelling reconciliation. THE GRASS HARP is a Broadway cult favorite and anyone who has experienced its emotional tug and exhilarating score easily understands why.
Vraag een licentie voor opvoering aan
Kies eerst de juiste instrumentale bezetting, alvorens de offerte aan te vragen.

Instrumentatie: piano only (The Grass Harp)

20 Libretto-Vocal Book
1 Piano-Vocal
1 Logo Pack
This title is orchestrated for Piano Only
PRINCIPALS
4 Women
1 Teenage Girl
3 Men
1 Teenage Boy

FEATURED
3 Boys (ages 8-14)
2 Girls (ages 8-14)

CHARACTERS
Dollyheart Talbo - A quirky but feisty woman in her forties.
Verena Talbo - Dollyheart's older sister; a bossy, demanding, self-assured businesswoman.
Collin - The Talbo sisters' teenage nephew.
Catherine Creek - Dollyheart's lifelong companion; a grouchy but practical woman in her forties.
Judge Cool - A good-natured retired circuit judge in his fifties.
Dr. Morris Ritz - A bombastic, narcissistic drifter.
Maudi Riordan - An extremely pretty, mature teenage girl.
Babylove - A sexy and resilient woman in her thirties.
Sherriff Amos Legrand - An unkempt and paranoid man in his thirties.
The Heavenly Pride-'n-Joys -Babylove's children, ranging in age from eight to fourteen:
Burmashave - The oldest, a son.
Dr. Pepper - The next-to-oldest, a son.
Dixiecup - Gangly and shy, a daughter.
Bubber Texaco - Wears glasses, a son.
Juicyfruit - The youngest and shortest, a daughter.