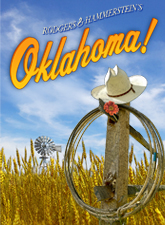 Oklahoma!
Rodgers & Hammerstein's first collaboration remains, in many ways, their most innovative, having set the standards and established the rules of musical theatre still being followed today. Set in a Western Indian territory just after the turn of the century, the high-spirited rivalry between the local farmers and cowboys provides the colorful background against which Curly, a handsome cowboy, and Laurey, a winsome farm girl, play out their love story. Although the road to true love never runs smooth, with these two headstrong romantics holding the reins, love's journey is as bumpy as a surrey ride down a country road. That they will succeed in making a new life together we have no doubt, and that this new life will begin in a brand-new state provides the ultimate climax to the triumphant OKLAHOMA!
Vraag een licentie voor opvoering aan
Kies eerst de juiste instrumentale bezetting, alvorens de offerte aan te vragen.

Instrumentatie: full package (Oklahoma!)

Full Orchestration:
20 Vocal Books
1 Piano-Conductor
1 Flute
1 Oboe
1 Bassoon
1 Clarinet 1
1 Clarinet 2
1 Horn 1
1 Horn 2
1 Trumpet 1
1 Trumpet 2
1 Trumpet 3
1 Trombone 1
1 Trombone 2
1 Guitar
1 Harp
1 Percussion
2 Violin 1
2 Violin 2
2 Viola
2 Cello
1 Bass
1 String Synthesizer (optional)
1 Logo Pack
Additional Material:
A Full Score is available for this title for an additional fee. Please contact your licensing representative for additional information.
Instrumentatie: two-piano arrangement (Oklahoma!)

20 Vocal Books
1 Piano-Conductor
2 Two-Piano Arrangement (Act 1)
2 Two-Piano Arrangement (Act 2)
1 Logo Pack
Instrumentatie: piano only (Oklahoma!)

20 Vocal Books
1 Piano-Conductor
1 Logo Pack
PRINCIPALS
3 Women
4 Men

FEATURED
1 Woman
2 Men

ENSEMBLE
Large singing-dancing ensemble with numerous small roles

CHARACTERS
Aunt Eller
Curly
Laurey
Ike Skidmore
Fred
Slim
Will Parker
Jud Fry
Ado Annie Carnes
Ali Hakim
Gertie Cummings
Ellen
Kate
Sylvie
Armina
Aggie
Andrew Carnes
Cord Elam
Jess
Chalmers
Mike
Joe
Sam