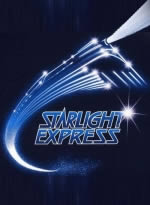 Starlight express
A child's train set magically comes to life and the various engines compete to become the "Fastest – engine in the World"! The underdog, Rusty the Steam train, has little chance until he is inspired by the legend of the "Starlight Express" and ultimately defeats his arch-rivals "Greaseball" and 'Electra before going on to win the hand of the lovely first class coach, Pearl.
The Definitive version of Starlight Express is now available to schools, colleges and universities. This is the version of the show that you'll have just seen on tour in the UK which includes the new song I do and the full Megamix. The classic moments of the show still remain such as U.N.C.O.U.P.L.E.D., Rolling Stock, Pumping Iron and AC/DC.
With an eclectic mix of styles, the new Definitive Starlight Express, truly is a show with something for everyone.
This is the fastest and most dynamic musical you will ever experience, however you choose to perform it! The show has a rock / pop score with enormous appeal for teenagers.
Vraag een licentie voor opvoering aan
Kies eerst de juiste instrumentale bezetting, alvorens de offerte aan te vragen.

Instrumentatie: 8 piece version

The music materials for this show will need to be hired from the Music Sales hire Library once you have obtained a show licence.
*The Definitive Starlight Express requires click tracks and keyboard programming which are provided with the hire set.
Woodwind (Piccolo, Alto Sax, Tenor Sax, Flute)
Trumpet
Trombone
Keyboard I (keyboard programming provided)
Keyboard II (keyboard programming provided)
Guitar (Electric, Acoustic)
Bass
Drums
Characters
Rusty
Pearl
Electra
Greaseball
Poppa
Dinah
Duvay
Buffy
Hip Hopper 1
Hip Hopper 2
Hip Hopper 3
Caboose
Dustin
Flat Top
Engine 1 – Nintendo
Engine 2 – Ruhrgold
Engine 3 – Turnov
Engine 4 – Pow/Trax 2
Trax
Purse
Joule
Volta
Wrench
Voice of Control