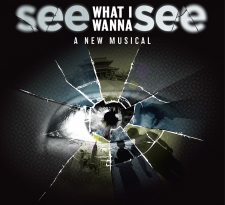 See What I Wanna See
SEE WHAT I WANNA SEE, a musical about lust, greed, murder, faith and redemption, was named by New York Magazine as one of the Best Musicals of 2005 and nominated for nine Drama Desk Awards, including Best Musical. It is based on three short stories by the Japanese writer Ryunosuke Akutagawa and unfolds like a classical Japanese screen painting. In Kesa and Morito, set in medieval Japan, two lovers sing of the ecstasy and torment of their illicit affair and their determination to end it that night. R Shomon, set in 1951, New York City, follows the investigation of a crime of passion and the witnesses' contradicting versions of the event. An innocent bystander, a cunning thief, a flirtatious wife, a psychic and even the ghost of the murdered man are all caught in a web of deceit. Gloryday, set in present-day New York City, introduces a priest during a crisis of faith after a terrible tragedy strikes the city. Disillusioned and angry, he plays a practical joke and posts an anonymous letter in Central Park, declaring that Christ will appear, rising from the pond. On the day of the miracle, a storm blows through the Park, and only the priest sees his lie become a truth.
Running time approximately 90 minutes.
Vraag een licentie voor opvoering aan
Kies eerst de juiste instrumentale bezetting, alvorens de offerte aan te vragen.

Instrumentatie: See What I Wanna See (Full package)

7 Piano-Vocal
2 Piano-Conductor (Full Score)
1 Reed 1
1 Reed 2
1 Percussion
1 Drums
1 Double Bass
Instrumentatie: See What I Wanna See (Piano only)

7 Piano-Vocal
Cast Breakdown: 2 women and 3 men, with doubling.

Kesa and Morito
Kesa
Morito

R shomon
The Janitor
The Theif
The Wife
The Husband
The Medium

R shomon
The Preist
Aunt Monica
A CPA
An Actress
A Reporter

Kesa and Morito is set in medieval Japan
R shomon is set in 1951, New York City
Gloryday is set in the present, New York City