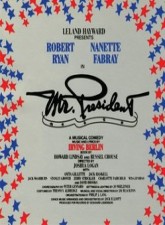 Mr. President
For his final Broadway score, Irving Berlin went straight to the top-the exalted office of President of the United States-to evoke the humanity within the First Family. President Stephen Decatur Henderson is en route to Russia when the proposed Soviet tour is canceled. Although a breach of protocol, he determines to land in Moscow nonetheless and the resulting humiliation costs him re-election. While his wife and two children are grateful to return home, the former President is not. He yearns to return to political life but when the offer of a Senate seat comes with compromising conditions attached, he turns it down. His love of country is primary though, and eventually he proudly returns to government at the behest of the new president.
Klavieruittreksels en eventuele libretto dienen apart besteld te worden s.v.p. aangeven op het offerteformulier.
Vraag een licentie voor opvoering aan
Kies eerst de juiste instrumentale bezetting, alvorens de offerte aan te vragen.

Instrumentatie: Orchestration Package (18 Books)

1 – Piano Conductor Scores
1 – PIANO/CELESTE (Piano Conductor Score)
1 – REED I (Piccolo, Flute, Clarinet, Alto Sax)
1 – REED II (Clarinet, Alto Sax)
1 – REED III (Clarinet, Tenor Sax)
1 – REED IV (Clarinet, Bass Clarinet, Tenor Sax)
1 – TRUMPET I-II
1 – TRUMPET III (doubles Cow Bell)
1 – TROMBONE I
1 – TROMBONE II (Doubles Tom-Tom)
1 – VIOLIN A (Divisi)
1 – VIOLIN B (Divisi)
1 – VIOLA (Divisi)
1 – CELLO (Divisi)
1 – BASS
1 – HARP
1 – GUITAR
1 – Percussion
PRINCIPALS
2 Women
3 Men

FEATURED
1 Woman
3 Men

ENSEMBLE
Large singing-dancing ensemble with several small roles

CHARACTERS
Manager
President Stephen Decatur Henderson
Nell Henderson - his wife
Leslie Henderson - his daughter
Larry Henderson - his son
Walter O'Connor - a Secretary in the Cabinet
David Caldwell
Youssein Davair
Tippy Taylor - a secretary
Pat Gregory - of the Secret Service
Charley Wayne - of the Secret Service
Princess Kyra
A Russian Soldier
Arthur Blanchard
Colonel Wilson - a pilot of the President's plane
Mrs. Lotta Pendleton
George Perkins
Mr. Thomas
Snow Queen
Radio Operator
Ali Hassoud
Abou
First Commentator
Second Commentator
A Workman
Miss Barnes
The Deacon
A Cashier
Sergeant Stone - of the State Police
Chester Kincaid
Betty Chandler
A Spieler
Governor Harmon Bardahl