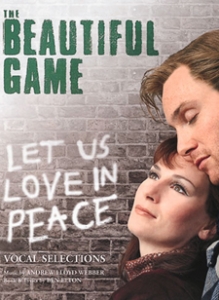 The Beautiful Game
Andrew Lloyd Webber and Ben Elton's musical is the story of ordinary people in an extraordinary situation. THE BEAUTIFUL GAME follows the fortunes of a group of teenagers, all members of a local soccer team, and their friends.
The show opened at the Cambridge Theatre, London on 26th September 2000 and ran until 1st September 2001. During its run the show was awarded the prestigious Best Musical Award in the Critics' Circle Theatre Awards 2000.
Under the watchful eye of team coach Father O'Donnell, John and Del both show enough promise to pursue careers as professional footballers. They're just two regular teenagers who dream of nothing more than girls and football. When they find love with their girlfriends Mary and Christine, they become swept up in the events that engulf their community and, as time passes, each has to decide whether or not to follow their hearts.
Ben Elton tells their story with humour and compassion, with lyrics that are both funny and heartbreaking. Andrew Lloyd Webber's evocative new score combines heart-searing ballads and stirring anthems with the sounds of Ireland. This powerful and passionate musical is a joyous celebration of the freedom that love can bring.
Vraag een licentie voor opvoering aan
Kies eerst de juiste instrumentale bezetting, alvorens de offerte aan te vragen.

Instrumentatie: 9 piece version - zo lang je maar wilt dat het is

Woodwind I (Flute, Piccolo, Penny Whistles)!
Percussion
Keyboard I
Keyboard II
Keyboard III
Guitar
Bass Guitar
Drums
Violin (Five string preferred / Four string optional)
Father O'Donnell
John Kelly
Mary McGuire
Thomas Malloy
Daniel Gillen
Bernadette
Gregory O'Shaugnessy
Derek Copeland
Christine Warner
New Announcers
Referee
Unpleasant looking Women X 2
Head Orange Marcher
Woman at the Orange March
Policemen X 2
Prison Guard
Prison Inmates
Men and Women of Belfast  X 22 (ish)
Children X 4