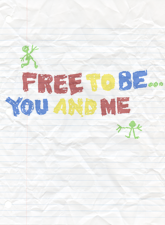 Free to Be… You and Me
Marlo Thomas conceived a children's book that, instead of telling boys and girls who they should be, would open them to the possibilities of who they could be. She gathered many of her supremely talented friends from various worlds of the arts and the remarkable result is highly regarded as a modern classic of children's literature. Life-enhancing themes are imaginatively blended with music and humor to expand children's personal horizons, enabling them to invent their own futures without limitation, while dispelling some old constraints and worn-out conventions in the process. Parents, teachers and other grown-up friends will delight in sharing this extraordinary and memorable experience with the children in their lives.
Klavieruittreksels en eventuele libretto dienen apart besteld te worden s.v.p. aangeven op het offerteformulier.
Vraag een licentie voor opvoering aan
Kies eerst de juiste instrumentale bezetting, alvorens de offerte aan te vragen.

Instrumentatie: Orchestration Package (16 Books)

1 – FULL SCORE (Conductor)
1 – KEYBOARD (Piano, Celesta, Organ)
1 – REED I (Flute, Piccolo, Alto Sax)
1 – REED II (Flute, Tenor/Alto Sax)
1 – REED III (Clarinet, Baritone Sax)
1 – HORN
1 – TRUMPET I
1 – TRUMPET II
1 – TROMBONE I
1 – TROMBONE II
1 – GUITAR/BASS
1 – DRUMS (see list below)
1 – PERCUSSION (see list below)
1 – VIOLIN I
1 – VIOLIN II
1 – CELLO
PRINCIPALS
2 Women
2 Men

ENSEMBLE
Singing-Dancing ensemble of 6 (can be expanded to include a chorus, babies, tigers, racers, people of the kingdom, etc.)

CHARACTERS
Vickie - strong-willed, centered and demanding.
Janet - kind-hearted and a loyal friend to William.
Richard - reluctant to change and afraid to display his emotions.
William - sensitive and open.