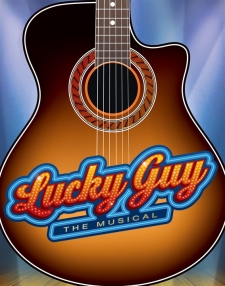 Lucky Guy
LUCKY GUY tells the tale of a singing cowboy in Nashville who wins a song contest and the chance to become a star! The fun begins when the Queen of Country Music, who lives in a 28 room trailer, schemes to steal his prize winning song. The story takes place in Music City, U.S.A.– back in the day when the only thing bigger than the hits were the hairdos. That's where our hero meets the lovable cast of characters in this colorful retro fantasy world featuring a tribe of tap dancing Indians, a choir of heavenly angels and wigs that magically sing. LUCKY GUY is a fresh, new and totally original musical comedy guaranteed to delight the whole family. It has a fast and funny plot that will have you roaring with laughter and a memorable score filled with songs you'll be humming long after you leave the theatre. The real heart and soul of the show, however, is the moral of the story: it's not what you have in life it's who you have to share it with that makes you a lucky guy.
Running Time: 2 hours, 15 minutes; Including One 15-minute Intermission
Vraag een licentie voor opvoering aan
Kies eerst de juiste instrumentale bezetting, alvorens de offerte aan te vragen.

Instrumentatie: Lucky Guy (Piano only)

12 Libretto-Vocal
1 Keyboard/Conductor
1 Logo Pack
This title is orchestrated for Piano Only.
PRINCIPALS
3 Woman
3 Men

FEATURED
4 Men

ENSEMBLE
An ensemble may be added.

CHARACTERS
Big Al Wright
Miss Jeannie Jeannine
Billy Ray Jackson
Chicky Lay
G.C. Wright
Wanda Clark
Buckaroos (4 guys)