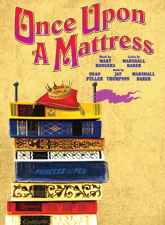 Once Upon a Mattress
If you thought you knew the story of 'The Princess and The Pea,' you may be in for a walloping surprise! Did you know, for instance, that Princess Winnifred actually swam the moat to reach Prince Dauntless the Drab? Or that Lady Larken's love for Sir Harry provided a rather compelling reason that she reach the bridal altar post haste? Or that, in fact, it wasn't the pea at all that caused the princess a sleepless night? Carried on a wave of wonderful songs, by turns hilarious and raucous, romantic and melodic, this rollicking spin on the familiar classic of royal courtship and comeuppance provides for some side-splitting shenanigans. Chances are you'll never look at fairy tales quite the same way again.
Vraag een licentie voor opvoering aan
Kies eerst de juiste instrumentale bezetting, alvorens de offerte aan te vragen.

Instrumentatie: full package (Once Upon a Mattress)

15 Libretto-Vocal Book
1 Piano-Conductor
1 Flute
1 Oboe
1 Clarinet
1 Bass Clarinet
1 Horn
1 Trumpet 1
1 Trumpet 2
1 Trombone
1 Guitar
1 Piano
1 Harp
2 Violin
1 Viola
1 Cello
1 Bass
1 Percussion
1 Logo Pack
Additional Material:
A Full Score is available for this title for an additional fee. Please contact your licensing representative for additional information.
Instrumentatie: piano only (Once Upon a Mattress)

15 Libretto-Vocal Book
1 Piano-Conductor
1 Logo Pack
PRINCIPALS
3 Women
6 Men

FEATURED
1 Woman
1 Man

ENSEMBLE
Singing and dancing ensemble consisting of Ladies-in-Waiting, Knights, Soldiers, Servants, and Musicians.

CHARACTERS
Minstrel
Pantomime Characters
Princess No. 12
Wizard
Lady Larkin
Queen Aggravain
Prince Dauntless
King Sextimus the Silent
Jester
Sir Studley
Sir Luce
1st Knight
2nd Knight
3rd Knight
1st Lady-in-Waiting - Rowena
2nd Lady-in-Waiting - Merrill
3rd Lady-in-Waiting - Lucille
Sir Harry
Kitchen Wench
Princess Winnifred
Emily
Lady Mabelle
Nightingale
Ladies-in-Waiting, Knights, Soldiers, Servants, Musicians, etc.