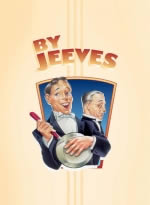 By Jeeves
By Jeeves, a musical based on the beloved stories of Bertie Wooster and his butler Jeeves by P.G Wodehouse, is a totally rewritten version of a 1975 production. Featuring farcical site gags, nimble word-play, ingenious staging and 13 delightful songs composed by Andrew Lloyd Webber with lyrics by Alan Ayckbourn, it is as refreshing and English as a cup of tea…
When Bertie Wooster's banjo mysteriously disappears just as he is about to give a concert in a church hall, his quick-witted and unflappable manservant Jeeves suggests that he entertain his audience by relating the hapless romantic misadventures of his circle of high-society London cronies. With members of the audience playing the roles of Bertie's friends onstage and Jeeves serving as writer, composer, director and props master, an impromptu theatrical extravaganza unfolds.
The show opened in Scarborough, UK in 1996, transferring to the Duke of Yorks Theatre and the Lyric Theatre in London. The North American premiere of By Jeeves was at the Goodspeed Opera House in East Haddam in December 1996. A revised Goodspeed production played on Broadway at the Helen Hayes Theatre in 2001. By Jeeves has also been filmed for video release.
Vraag een licentie voor opvoering aan
Kies eerst de juiste instrumentale bezetting, alvorens de offerte aan te vragen.

Instrumentatie: 6 piece version

Keyboard 1 / MD
Keyboard 2
Woodwind 1 (Flute, Alto Sax, Bb Clarinet)
Guitar (Acoustic)
Double Bass
Drums
Principals
3 Women
7 Men

Featured
1 Woman
2 Men

Characters
Bertram Wooster
Jeeves
Honoria Glossop
Gussie Fink-Nottle
Harold 'Stinker' Pinker
Stiffy Byng
Bingo Little
Sir Watkyn Bassett
Madeline Bassett
Cyrus Budge III (Junior)
Other Personages (3)