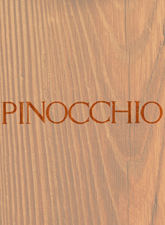 Pinocchio
The lonely old carpenter, Geppetto, carves himself a son from wood and no sooner is the job done than the boy springs to life. The timeless adventures of the puppet who yearns to be a real boy are magically brought alive with a vibrant score from the Tony and Pulitzer Prize winning lyricist of FIDDLER ON THE ROOF and the multi-award winning composer of ONCE UPON A MATTRESS. This beloved children's classic, devised for a combined cast of puppets and live actors, still amazes and delights, while instilling in youngsters the dangers of selfishness, the importance of honesty, and the power of love.
Vraag een licentie voor opvoering aan
Kies eerst de juiste instrumentale bezetting, alvorens de offerte aan te vragen.

Instrumentatie: Op Aanvraag

PRINCIPALS
2 Men

FEATURED
2 Men

ENSEMBLE
Variable cast of females and males, live actors and puppets

CHARACTERS
Carlos - a Hispanic cricket.
Gepetto - a kindly gray-haired carpenter.
His Tools:
Axe
Mallet
Chisel
Saw
Hammer
Scissors
A Log for Carving
Pinocchio - a wooden boy
Alex - a theatre barker
Harlequin - a character in the show at the theater
Pierrot - Harlequin's rival in the show
Columbine - the object of their rivalry
Fireball - the theater owner
Cat - a feline entrepreneur
Fox - the Cat's sly cohort
Two Policemen
The Magistrate
Mrs. Bluestone, a probation officer
Three Fish