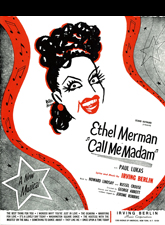 Call Me Madam
Once President Harry S. Truman appointed Washington hostess Perle Mesta as Ambassador to Luxembourg, the foundation was laid for a musical comedy that would kid politics-foreign and domestic alike. Ambassador Sally Adams, with slim credentials, is sent off to administer in the tiny duchy of Lichtenburg. It's not long before her down-to-earth, typically undiplomatic manner has surprised and charmed the local gentry, especially the handsome Prime Minister. A second romance is blossoming between her young Ivy League aid and Lichtenburg's enchanting young Princess. The course of love is threatened by the stuffy opposition, who eventually succeed in wrangling Sally's recall, but not before all has resolved happily for both pairs of lovers.
Vraag een licentie voor opvoering aan
Kies eerst de juiste instrumentale bezetting, alvorens de offerte aan te vragen.

Instrumentatie: Orchestration Package (20 Books)

1 – PIANO CONDUCTOR SCORE
1 – PIANO
1 – REED I (Piccolo, Flute, Clarinet, Alto Sax)
1 – REED II (Clarinet, Bass Clarinet, Alto Sax)
1 – REED III (Oboe, English Horn, Clarinet, Tenor Sax)
1 – REED IV (Flute, Clarinet, Tenor Sax)
1 – REED V (Clarinet, Bass Clarinet, Alto Sax, Baritone Sax, Optional Bassoon)
1 – HORN
1 – Trumpet I
1 – TRUMPET III
1 – TROMBONE I
1 – TROMBONE II
1 – PERCUSSION (see list above)
1 – GUITAR (Doubles Banjo)
1 – VIOLIN A - C (Divisi)
1 – VIOLIN B - D (Divisi)
1 – VIOLA (Divisi)
1 – CELLO (Divisi)
1 – BASS
1 – TRUMPET II
PRINCIPALS
2 Women
3 Men

FEATURED
1 Woman
3 Men

ENSEMBLE
Large singing-dancing ensemble with several small roles.

CHARACTERS
Mrs. Sally Adams
The Secretary of State
Supreme Court Justice
Congressman Wilkins
Henry Gibson
Kenneth Gibson
Senator Gallagher
Secretary to Mrs. Adams
Butler
Senator Brockbank
Cosmo Constantine
Pemberton Maxwell
Clerk
Hugo Tantinnin
Princess Maria
Court Chamberlain
A Maid
Grand Duchess Sophie
Grand Duke Otto
Sebastian Sebastian
Principal Dancers
The Ocarina Players