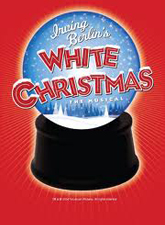 White Christmas
Based on the beloved, timeless film, this heartwarming musical adaptation features seventeen Irving Berlin songs and a book by David Ives and Paul Blake.
Veterans Bob Wallace and Phil Davis have a successful song-and-dance act after World War II. With romance in mind, the two follow a duo of beautiful singing sisters en route to their Christmas show at a Vermont lodge, which just happens to be owned by Bob and Phil's former army commander. The dazzling score features well known standards including Blue Skies, I Love A Piano, How Deep Is the Ocean and the perennial favorite, White Christmas. WHITE CHRISTMAS is an uplifting musical worthy of year-round productions.
Vraag een licentie voor opvoering aan
Kies eerst de juiste instrumentale bezetting, alvorens de offerte aan te vragen.

Instrumentatie: full package (Irving Berlin's White Christmas)

Full Package Rentals
20 Libretto-Vocal Book
1 Piano-Conductor
1 Reed 1
1 Reed 2
1 Reed 3
1 Reed 4
1 Reed 5
1 Horn
1 Trumpet 1
1 Trumpet 2
1 Trumpet 3
1 Trombone 1
1 Trombone 2
1 Trombone 3
1 Drums
2 Percussion
1 Keyboard 1
1 Keyboard 2
3 Violins
2 Cello
1 Bass
1 Logo Pack
A Full Score is available for this title for an additional fee. Please contact your licensing representative for more information.
Instrumentatie: piano only (Irving Berlin's White Christmas)

20 Libretto-Vocal Book
1 Piano-Conductor
1 Logo Pack
PRINCIPALS
3 Women
3 Men
1 Young Girl

FEATURED
2 Women
3 Men

ENSEMBLE
Large singing-dancing ensemble consisting of 'Jimmy's Back Room' Clubgoers, Train Passengers, Inn Guests, Chorus Kids, Patrons of the Regency Room

CHARACTERS
Bob Wallace - late 20's to mid 30's, a superb singer with a crooning style who moves well.
Phil Davis - late 20's to mid 30's, strong jazz and tap-dancing needed - a song-and-dance comic performer.
Betty Haynes - mid to late 20's, a female singer of quiet beauty and charm who must move well.
Judy Haynes - early 20's, strong jazz and tap-dancing needed - a major song-and-dance performer.
General Henry Waverly - late 50's to mid 60's, with the exception of one line, a non-singing role.
Martha Watson - late 40's to mid 60's, a winning, appealing character-comedienne
Susan Waverly - 9 years old, she must have an excellent belt voice and be able to move well.
Ralph Sheldrake - mid to late 30's
Rita - mid 20's to early 30's
Rhoda - mid 20's to early 30's
Ezekiel Foster - mid 40's to late 50's
Mike - mid 20's to late 30's
Tessie
Jimmy
Cigarette Girl
Snoring Man
Mrs. Snoring Man
Train Conductor
Dance Captain
Seamstress
Assistant Seamstress
Ed Sullivan Announcer
Regency Room Announcer - offstage voice
Sheldrake's Secretary - offstage voice
'Jimmy's Back Room' Clubgoers
Train Passengers
Inn Guests
Chorus Kids
Patrons of the Regency Room