Adam Guettel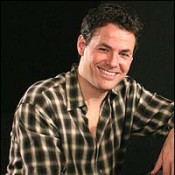 Adam Guettel (Music, Lyrics) is a composer/lyricist living in New York City. His most recent musical, The Light In The Piazza (cast album on Nonesuch Records), with a book by Craig Lucas, premiered on Broadway at Lincoln Center Theater's Beaumont Theater in April 2005, following a world premiere at the Intiman Theater in Summer 2003, and a second engagement at Chicago's Goodman Theater in early 2004 (where it received three Joseph Jefferson Awards including Best Musical).
The Light In The Piazza received 6 Tony Awards including two for Mr. Guettel. Piazza received its UK premiere at the Curve Theater in Leicester in April 2009. Mr. Guettel wrote music and lyrics for Floyd Collins (cast album on Nonesuch Records), which received the 1996 Lucille Lortel Award for Best Musical and earned Mr. Guettel the Obie Award for Best Music. Floyd Collins has been presented at Playwrights Horizons, New York; Prince Theatre, Philadelphia; Goodman Theatre, Chicago; Old Globe, San Diego; Bridewell, London; and elsewhere. His other works include Love's Fire, a collaboration with John Guare for The Acting Company, and Saturn Returns, a concert at Joseph Papp Public Theater/New York Shakespeare Festival.
Saturn Returns was recorded by Nonesuch Records under the title Myths and Hymns. Four of Mr. Guettel's songs were featured on Audra McDonald's Nonesuch Records album, Way Back To Paradise (1998), two more appear on her 2000 album, How Glory Goes (including the title track), and two more are on Build a Bridge (2007) including the title track. Mr. Guettel performed a concert evening of his works at New York's Town Hall in 1999. He can be heard singing four duets with Meryl Streep in the short film The Music of Regret (2008). Film scores include Arguing The World, a feature documentary by Joe Dorman (1999), and the score for JACK, a two-hour documentary for CBS by Peter Davis (1994). Awards for Mr. Guettel include the Stephen Sondheim Award (1990), the ASCAP New Horizons Award (1997), and the American Composers Orchestra Award (2005).
Alle musicals van Adam Guettel