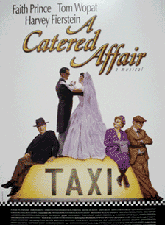 A Catered Affair
A Catered Affair tells the story of a Bronx mother's efforts to give her only daughter the elaborate wedding she never had – and the bride never asked for. In this funny, poignant and oh, so human show of love and disaffection, Harvey Fierstein's book and John Bucchino's score explore both our need for love and true meaning of family.
Vraag een licentie voor opvoering aan
Kies eerst de juiste instrumentale bezetting, alvorens de offerte aan te vragen.

Instrumentatie: full package (A Catered Affair)

7 Libretto-Vocal Book
1 Piano-Conductor
1 Reed 1
1 Reed 2
1 Trumpet
1 Piano
1 Percussion
1 Violin 1
1 Violin 2
1 Viola
1 Cello
1 Bass
Instrumentatie: piano only (A Catered Affair)

7 Libretto-Vocal Book
1 Piano-Conductor
PRINCIPALS
2 Women
3 Men

FEATURED
1 Man
4 Women

CHARACTERS
Aggie Hurley ? mother of the bride
Tom Hurley ? father of the bride
Janey Hurley ? the bride
Ralph Halloran ? the groom
Winston ? uncle of the bride
Mr. Halloran ? groom?s father (double as Sam)
Mrs. Halloran ? groom?s mother (doubles as Pasha)
Myra ? neighbor (doubles as Wedding Dress Saleswoman)
Delores ? neighbor (doubles as The Caterer)
Alice ? Janey?s best friends (doubles as Army Sergeant)
Sam ? cab driver
Pasha ? neighbor
Wedding Dress Saleswoman
Caterer
Army Sergeant