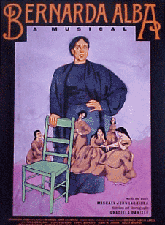 Bernarda Alba
A perfect show for a strong female cast, BERNARDA ALBA is a masterwork by Michael John LaChiusa, who has brought us such critically acclaimed hits as THE WILD PARTY and MARIE CHRISTINE. LaChiusa brings a musical voice to Federico Garcia Lorca's final 1936 masterpiece, The House of Bernarda Alba, through pulsing castanets, trilling Spanish guitars and resounding rhythmic stomps.
BERNARDA ALBA tells the tales of a powerful matriarch, who imposes a strict rule on her household following her second husband's funeral: 'Not a breath of outside air is going to enter this house. It's going to feel like we've bricked up the doors and windows,' she proclaims. Bernarda's five daughters, however, struggle with her cold wishes. The girls' dreams and desires challenge their mother's harsh rules and the outside world begins to slowly permeate their isolated existence.
Vraag een licentie voor opvoering aan
Kies eerst de juiste instrumentale bezetting, alvorens de offerte aan te vragen.

Instrumentatie: Orchestration Package (10 Books)

1 – PIANO VOCAL SCORE
1 – REED (see list below)
1 – GUITAR
1 – VIOLA
1 – CELLO I
1 – CELLO II
1 – BASS
1 – HARP
1 – PERCUSSION (see list below)
PRINCIPALS
6 Women

FEATURED
4 Women

Comments
The score is influenced by Spanish folk song and flamenco; vocally, this requires versatility from each actor.

Bernarda Alba - late 50's, early 60's

Bernarda's Daughters:
Angustias - 39- years-old
Magdalena - 35-years-old
Amelia - 32-years-old
Martirio - 29-years-old
Adela - 25-years-old

Maria Josepha - Bernarda's Mother, 80-years-old
Poncia - 50's, Bernarda's Servant
Young Maid - early 20's
Servant (doubled with Prudencia) - 40's
Prudencia (doubled with Servant) - Bernarda's Neighbor