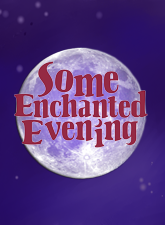 Some Enchanted Evening – The Songs of Rodgers & Hammerstein
More so than any composer and lyricist who have written for the stage, the songs of Rodgers & Hammerstein have become an integral part of our everyday lives. We sing them in the shower, we dance to them in ballrooms, we hear them on the radio and in clubs and, yes, in elevators and supermarkets too. We still thrill to them on the live stage in their respective shows, and we teach them to our children. This stunning collection of compositions places five performers in a theatrical setting-first 'backstage,' where the songs are sung as personal interplay, and then 'onstage.' While offering the performers an opportunity to explore the songs within their own styles and sensibilities, it offers the audience a glorious parade of genuine hits.
Vraag een licentie voor opvoering aan
Kies eerst de juiste instrumentale bezetting, alvorens de offerte aan te vragen.

Instrumentatie: full package (Some Enchanted Evenings) - Full Package Rentals

8 Libretto-Vocal Book
12 Two-Piano Vocal Score - Act 1
12 Two-Piano Vocal Score - Act 2
1 Logo Pack
PRINCIPALS
3 Women
2 Men

ENSEMBLE
A singing ensemble could easily be incorporated if desired.

Billy - Tall, dark, sexy?could play Jud or Billy Bigelow. A 'Leading Man' type who must sing well and have great personality. This guy must dazzle the ladies with his charm and have a sense of humor and a commanding way with the music.
Will - A song and dance man who could play Will Parker but also could be right for Lt. Cable. A friendly performer who must be able to play comedy as well as tender moments.
Julie - A pretty blond who could play Laurie or Julie. Big soprano. Must have a soft sexiness and playfulness that is endearing. Beneath it all is a spunky lady.
Anna - An attractive lady who could play Anna, Lady Thiang or Aunt Eller. Must have a quality of mystery and sensuousness and be able to play both the regal and the silly.
Nellie - A strong and up-front young performer who might play Ado Annie or Nellie. Appealing with a big, big voice. Might also be at home doing rock and roll but now finds herself doing the Rodgers and Hammerstein 'Classics.'