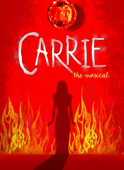 CARRIE the musical
Carrie White is a misfit. At school, she's an outcast who's bullied by the popular crowd, and virtually invisible to everyone else. At home, she's at the mercy of her loving but cruelly over-protective mother. But Carrie's just discovered she's got a special power, and if pushed too far, she's not afraid to use it…
Based on Stephen King's bestselling novel, the musical of  Carrie  hasn't been seen since its legendary 1988 Broadway production.  Now, the show's original authors have joined with director Stafford Arima (Altar Boyz) and MCC Theater for a newly reworked and fully re-imagined vision of this gripping tale. Set today, in the small town of Chamberlain, Maine,  Carrie  features a book by Lawrence D. Cohen (screenwriter of the classic film), music by Academy Award winner Michael Gore (Fame,  Terms of Endearment), and lyrics by Academy Award winner Dean Pitchford (Fame,  Footloose).
Klavieruittreksels en eventuele libretto dienen apart besteld te worden s.v.p. aangeven op het offerteformulier.
Vraag een licentie voor opvoering aan
Kies eerst de juiste instrumentale bezetting, alvorens de offerte aan te vragen.

Instrumentatie: Carrie - Orchestration Package (7 Books)

1 – Keyboard 1/Conductor
1 – Keyboard II
1 – Guitar I
1 – Guitar II
1 – Cello
1 – Bass
1 – Drums
PRINCIPALS
2 Women

FEATURED
3 Women
2 Men

CHARACTERS
Margaret White
Carrie White
Sue Snell
Lynn Gardner
Chris Hargensen
Tommy Ross
Billy Nolan
Mr. Stephens
George
Norma
Freddy
Stokes
Helen
Frieda
Ensemble