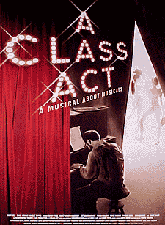 A Class Act
Songwriter Ed Kleban's friends gather at his memorial after his untimely death at the age of 48. Unbeknownst to them, Ed makes a surprise trip from "the beyond" to hear their loving tributes. Instead, he is shocked by their critical remarks. Determined to set the record straight, he shadows the speakers at the memorial as they relive scenes from his life, told with his own songs, including the showstopper "Better," originally recorded by Barbra Streisand. The ensemble includes the legendary Lehman Engel, leader of the BMI Musical Theatre Workshop; the uber-energetic composer Marvin Hamlisch, with whom we see Ed writing the lyrics for A Chorus Line's iconic score; and the dynamic women in Ed's life – sexy Mona, ambitious Felicia, lovely Lucy, and his first love, Sophie, who sings Ed's modern romantic ballad "The Next Best Thing To Love." Ed himself sings his extraordinary song "Self-Portrait," which reveals the depth and humanity of one of musical theatre's previously unsung masters. This vibrant musical finally gives Ed and his music the recognition they deserve.
Vraag een licentie voor opvoering aan
Kies eerst de juiste instrumentale bezetting, alvorens de offerte aan te vragen.

Instrumentatie: full package (A Class Act)

28 Libretto
28 Piano-Conductor
1 Reed 1
1 Reed 2
1 Trumpet 1
1 Trumpet 2
1 Trombone
1 Keyboard 2
1 Percussion
1 Bass
1 Logo Pack
Instrumentatie: piano only (A Class Act)

28 Libretto
28 Piano-Conductor
1 Logo Pack
PRINCIPALS
4 Women
4 Men

COMMENTS
Doubling is used for all characters except the roles of Ed Kleban, Lehman Engel and Sophie.

CHARACTERS
Ed Kleban – an aspiring songwriter
Lehman Engel – leader of the BMI Musical Theatre Workshop
Bobby – a drummer and would-be songwriter
Michael Bennett – charismatic choreographer and director
Charley – an aspiring songwriter
Marvin Hamlisch – the composer at age 29
Dr. Nodine – a phychiatrist at a mental hospital (non-speaking role)
Jean-Claude Chevray – Sophie's boyfriend, suave and confident
Sophie – Ed's first love
Felicia Lipshitz – an aspiring songwriter
Lucy – an aspiring singer/songwriter
Mona – an aspiring songwriter, seductive and kittenish
First Girl in Light on my Feet
Second Girl in Light on my FeetDancer One in A Chorus Line
Dancer Two in A Chorus LineDancer Three in A Chorus Line
Tap Dance Students (2)