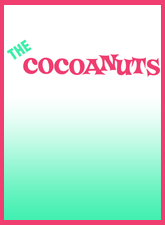 The Cocoanuts
The Marx Brothers infiltrate the Florida real estate boom circa 1920 and find Margaret Dumont, jewels to steal, pockets to pick, lovers to confuse, hotel guests to confound, and a treasure trove of songs by Irving Berlin. The show that introduced the standard 'Always' in 1925 was a smash Off-Broadway hit in 1997. We are proud to make this historic madcap romp available, so Groucho, Harpo, Chico and Zeppo-brush up your slap-stick and head south for a feast of wild hilarity!
Klavieruittreksels en eventuele libretto dienen apart besteld te worden s.v.p. aangeven op het offerteformulier.
Vraag een licentie voor opvoering aan
Kies eerst de juiste instrumentale bezetting, alvorens de offerte aan te vragen.

Instrumentatie: Orchestration Package (8 Books)

1 – PIANO CONDUCTOR SCORE
1 – REED I (Flute, Clarinet, Alto Sax)
1 – REED II (Clarinet, Bass Clarinet, Tenor Sax)
1 – VIOLIN
1 – TRUMPET
1 – BASS (Doubling Tuba)
1 – PERCUSSION (see list below)
PRINCIPALS
3 Women
5 Men (including 4 Marx Brothers)

FEATURED
2 Men

ENSEMBLE
Singing-dancing ensemble with numerous small roles.

CHARACTERS
Jamison (Zeppo)
Mrs. Potter
Harvey Yates
Penelope Martyn
Polly Potter
Robert Adams
Henry W. Schlemmer (Groucho)
Willie the Shill (Chico)
Silent Sam (Harpo)
Hennessey