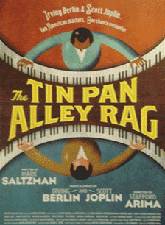 The Tin Pan Alley Rag
Although there is no historic record of Irving Berlin and Scott Joplin ever having met, it's not unlikely that the legendary songwriters' paths might have crossed in that district of New York City known in the early part of the 20th century as Tin Pan Alley. That's the premise of this intriguing musical play, set into motion when the aging Joplin happens into young Berlin's office in search of a publisher for his opera, TREEMONISHA. The ensuing musical discourse highlights influential and emotional moments from each of their lives. This bracing, original piece contrasts the ironic similarities and differences between the men to the sustaining surge of musical abundance. While Joplin received a conservatory education as the prodigy of a father born into slavery, it was Berlin, the Russian immigrant who couldn't read music, who had his first international hit song at the age of 23. What becomes clear is that both Berlin and Joplin possessed musical gifts beyond measure and shared a passionate humanity, both of which are beautifully showcased and illuminated in THE TIN PAN ALLEY RAG.
Vraag een licentie voor opvoering aan
Kies eerst de juiste instrumentale bezetting, alvorens de offerte aan te vragen.

Instrumentatie: full package (The Tin Pan Alley Rag)

15 Libretto-Vocal
1 Piano-Vocal
1 Clarinet
1 Percussion
1 Bass
1 Logo Pack
Instrumentatie: piano only (The Tin Pan Alley Rag)

15 Libretto-Vocal
1 Piano-Vocal
1 Logo Pack
PRINCIPALS
3 men
2 Women

FEATURED
3 Men
1 Woman

ENSEMBLE
Singing-Dancing ensemble doubling in many roles.

CHARACTERS
Scott Joplin
Irving Berlin
Ted Snyder/John Stark/Alfred Ernst
Mr. Williams/Ned/Freddie's Father/Ragtime Dancer
Miss Esther Lee/Monisha/Ragtime Dancer
Dorothy/Saloon Singer/Lula, Alfred Ernst's Secretary
Gitlo/Mr. Payton/Ragtime Dancer
Treemonisha/Freddie/Hattie
Hopeful Songwriter/Driver/Cuban Singer
To be assigned as desired: Turkey Trot Plugger, Mr. Moon Singer, Lizzie Singer, Canoe Singers, Romeo Singer, Tate, Hiawatha Singer, Harvest Moon Singers, Honolulu Singer, Lillian Singer, Willie, Harry, Sofie, Jimmy Kelly, Money Mulligan, Johnny, Wedding Singer, Band Singer, Blues Shouter, Librarian.