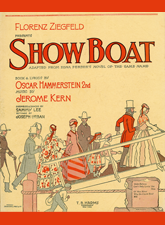 Show Boat (1927)
Spanning the years from 1880 to 1927, this lyrical masterpiece concerns the lives, loves and heartbreaks of three generations of show folk on the Mississippi, in Chicago and on Broadway (and their life-long friends). The primary plot follows Magnolia, the naive daughter of the show boat captain, as she marries a gambler and moves with him to Chicago. His gambling continues as his debts compound, and soon he deserts her and their young daughter. A subplot concerns the potential arrest of Magnolia's selfless best friend on charges of miscegenation when it's discovered that she is mulatto, and her subsequent downward spiral into despair. The passing of time reunites Magnolia and her now-grown daughter with her family on the show boat as well as with her husband, who eventually returns offering a hopeful second chance at familial fulfillment.
Vraag een licentie voor opvoering aan
Kies eerst de juiste instrumentale bezetting, alvorens de offerte aan te vragen.

Instrumentatie: full package (Show Boat)

30 Libretto-Vocal Book
1 Piano-Vocal
1 Flute
1 Oboe
1 Clarinet 1&2
1 Bassoon
1 Horn 1&2
1 Trumpet 1&2
1 Trombone
2 Percussion
2 Banjo/Guitar
4 Violin A,B,C&D
1 Viola
1 Cello
1 Bass
1 Logo Pack
Instrumentatie: piano only (Show Boat)

30 Libretto-Vocal Book
1 Piano-Vocal
1 Logo Pack
PRINCIPALS
5 Women
5 Men

FEATURED
3 Women
4 Men
1 Girl

ENSEMBLE
Large singing-dancing ensemble with numerous small roles and children

CHARACTERS
Windy
Steve
Pete
Queenie
Parthy Ann Hawkes
Capt. Andy
Ellie
Frank
Rubberface
Julie
Gaylord Ravenal
Vallon
Magnolia
Joe
Backwoodsman
Barkers
Congress of Beauties
Landlady
Jim
Jake
Charlie
Mother Superior
Kim (child)
Old Lady on Levee