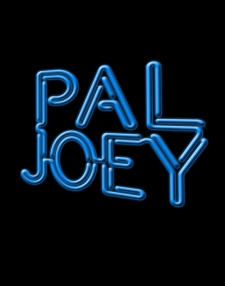 Pal Joey
The penultimate Rodgers & Hart collaboration introduced the first anti-hero to propel a musical. Joey is an opportunistic cad, but he always seems to land on his feet. He elbows his way into a job at a seedy Chicago nightclub and is soon juggling the affections of a naive chorus girl and a wealthy society dame who just happens to be married. Once Joey has charmed the socialite into setting him up in his own joint, he ditches the chorine and is riding high, playing the big-time operator. When a punk threatens to spill the whole business to the socialite's husband, she decides that she's bored with Joey anyway, dumping him and the club. Having had a taste of his own medicine, you'd think Joey would head back to the sweet kid who really loves him. Wrong. Some things never change, but you know what? He's still on his feet.
Vraag een licentie voor opvoering aan
Kies eerst de juiste instrumentale bezetting, alvorens de offerte aan te vragen.

Instrumentatie: full package (Pal Joey) - Full Package Rentals

18 Libretto-Vocal Book
1 Piano-Vocal
1 Piano-Conductor
1 Reed 1
1 Reed 2
1 Reed 3
1 Reed 4
1 Reed 5
1 Horn
1 Trumpet 1&2
1 Trombone
1 Percussion
1 Violin A
1 Violin B
1 Violin C
1 Cello
1 Bass
1 Logo Pack
Instrumentatie: piano only (full package (Pal Joey)) - Piano Only

18 Libretto-Vocal Book
1 Piano-Vocal
1 Logo Pack
PRINCIPALS
3 Women
1 Man

FEATURED
1 Woman
1 Man

ENSEMBLE
Singing-dancing ensemble with several small roles

CHARACTERS
Joey Evans
Mike Spears
Gladys Bumps
Assistant Stage Manager
The Kid
Terry
Tilda
Valerie
Claire
Diane
Janet
Linda English
Vera Simpson
Victor
Ernest - The Tailor
Stage Manager
Louis - the tenor
Melba Snyder
Herman - the photographer
Ludlow Lowell
Deputy Commissioner O'Brien
Manager