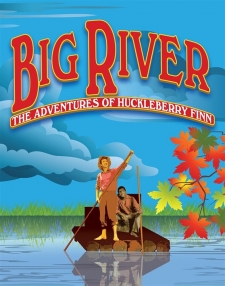 Big River – The Adventures of Huckleberry Finn
This adaptation of Twain's timeless classic sweeps us down the mighty Mississippi as the irrepressible Huck Finn helps his friend Jim, a slave, escape to freedom at the mouth of the Ohio River. Their adventures along the way are hilarious, suspenseful and heartwarming. BIG RIVER brings to life your favourite characters from the novel including but not limited to: the Widow Douglas and her stern sister, Miss Watson; the uproarious King and Duke; Huck's partner in crime, Tom Sawyer, and their rowdy gang of pals. Propelled by an award-winning score from Roger Miller, the king of country music, this jaunty journey provides a brilliantly theatrical celebration of pure Americana, moral courage and timeless friendships.
Vraag een licentie voor opvoering aan
Kies eerst de juiste instrumentale bezetting, alvorens de offerte aan te vragen.

Instrumentatie: full package (Big River)

35 Libretto-Vocal Book
1 Piano-Conductor
1 Woodwind
1 Trumpet
1 Trombone
1 Harmonica
1 Drums
1 Guitar 1
1 Guitar 2
1 Violin
1 Bass
1 Logo Pack
Instrumentatie: piano only (Big River)

35 Libretto-Vocal Book
1 Piano-Conductor
1 Logo Pack
Medium (5-21) - Large (14+)

Principal: 5 Women, 7 Men

Featured: 3 Women, 7 Men

Singing ensemble with many small roles and much doubling possible.